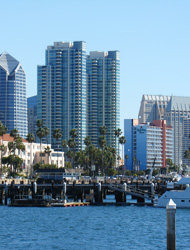 San Diego, CA
About the Firm
The Law Offices of Cary Richard Bond, A.P.C., opened in 1991 dedicated primarily to serving the litigation needs of construction companies. As clients grew and their needs expanded, so did the expertise of the firm. As a result of combining hard work and dedication with an eye towards the best interests of the client, the practice of the firm has grown. Today the firm represents many companies, both inside and outside of the construction industry.
The firm strives to and has developed many long-standing relationships with its clients. As lawyers, we endeavor to provide the counsel necessary to further your business goals. For many clients, the firm is honored to serve in the capacity of general counsel. As general counsel, the firm handles the litigious and non-litigious resolution of disputes, the formation of various business entities, as well as the transactional needs of clients.
The firm is licensed in both California and Nevada. The Martindale-Hubbell Law Directory has awarded the firm its highest rating, which is AV, in recognition of the firm's professional skill and expertise as well as its adherence to ethical standards.